Are you a black and white photography lover? Immerse yourself in the timeless, cinematic world of black and white images. Gain understanding of the black and white principles - learn why certain images are successful when converted to monochrome while others are suddenly losing their initial impact.
"Seeing in black and white" is essential to produce meaningful, impressive black and white photographs. If you have tried to simply turn your colour images to monochrome by hitting a single button on your computer, you were most probably disappointed with the results. Black and white photography is an art. The creative process it involves is an unique journey that unfolds as you progress along the path. We have designed the "Dramatic Black and White Photography in the Digital Age" course as a map to help you move with confidence and avoid common pitfalls. We know from our own experience how frustrating Photoshop work can be if you play the "trial and error" game.
To start with - this course is packed with high quality supporting materials (14 high resolution TIFF files), they are downloadable and ready for you to use and speed up the learning process. The "hands-on" tutorial part of the course is based on the provided image base, you don't have to waste time searching for suitable images.
By following along the complete, explained step by step edits you will discover all the ins and outs of the professional black and white creative process. We will teach you how to work effectively, in a non-destructive way, how to take intelligent creative decisions and get the results you always dreamed of.
Join this course, download the supporting files and experience the magic of black and white universe!

Simple Monochrome Conversion
Get results fast working with simple "One Step" methods of black & white conversion such as Desaturate, Hue/Saturation and Grayscale.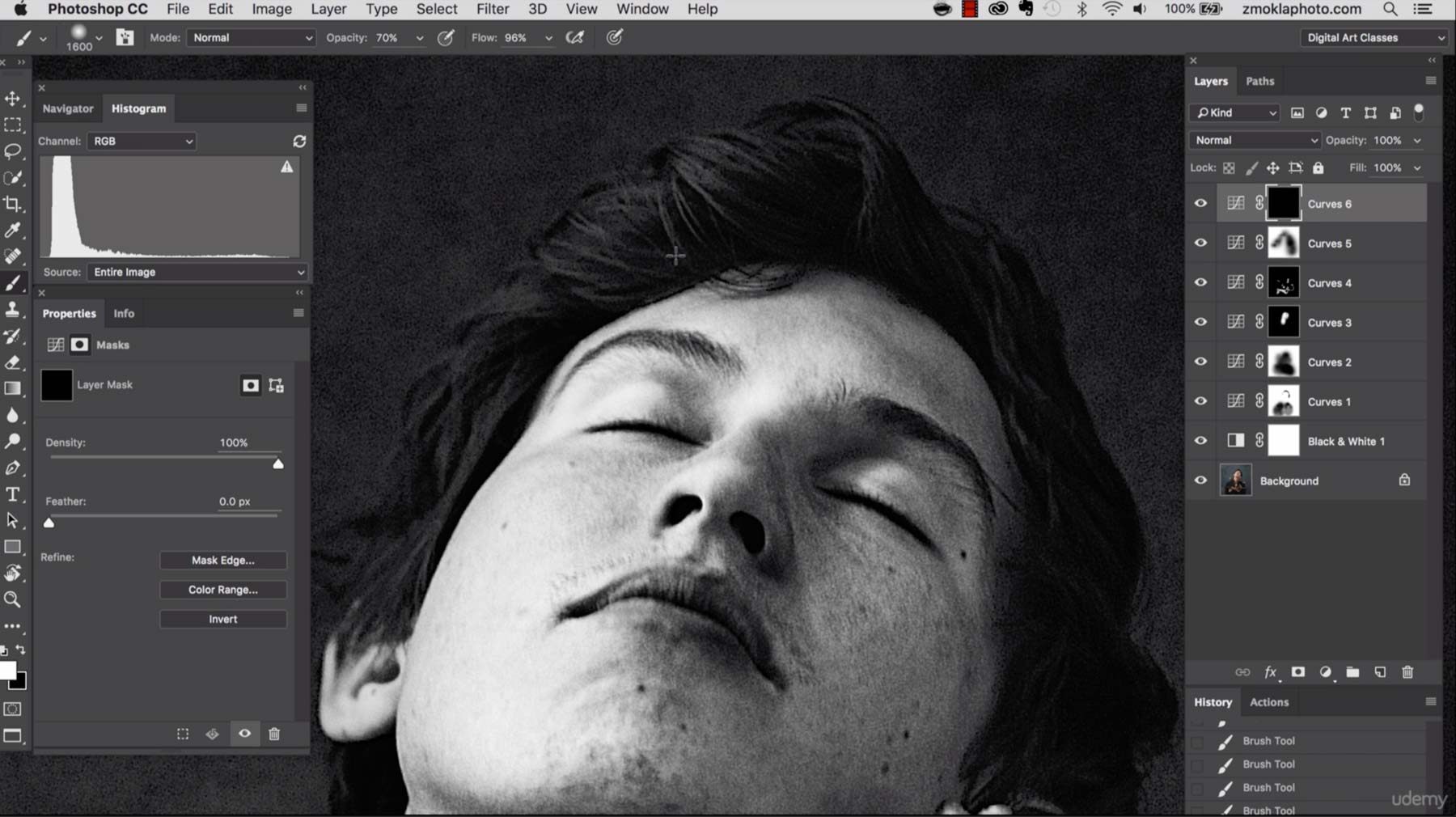 RGB Model & Photoshop Channels
Learn to evaluate your images with dedicated Photoshop tools. Understand RGB color mode, its relation to photographic filters and use it to perform black & white conversions with sophisticated methods.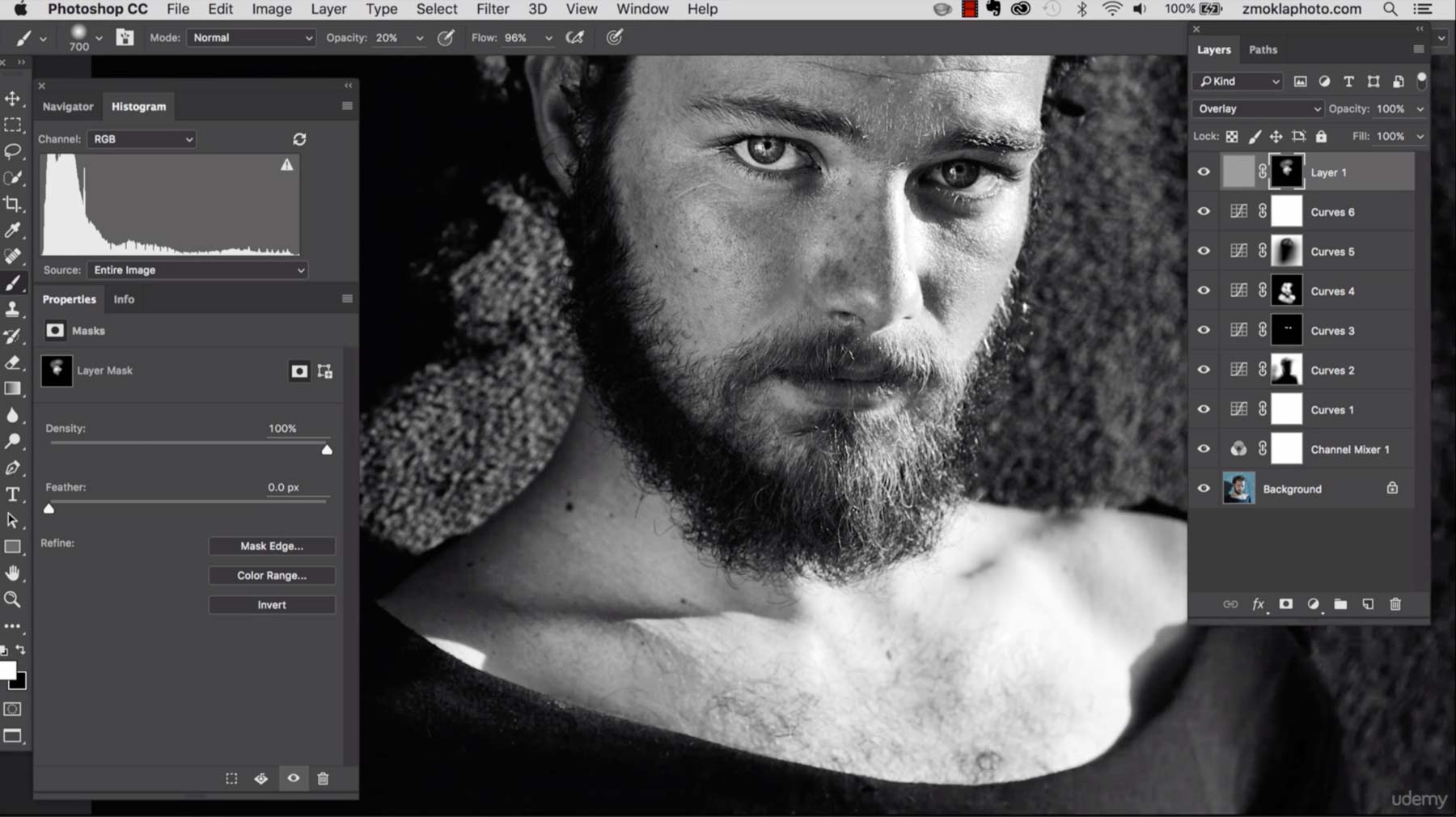 Advanced Black & White Conversion
Explore the range of advanced black & white conversion methods: LAB Color, Hue/Saturation with Adjustment Layer, Twin Hue/Saturation Method, Gradient Map, Channel Mixer, Black & White Tool and Adobe Camera RAW Plugin.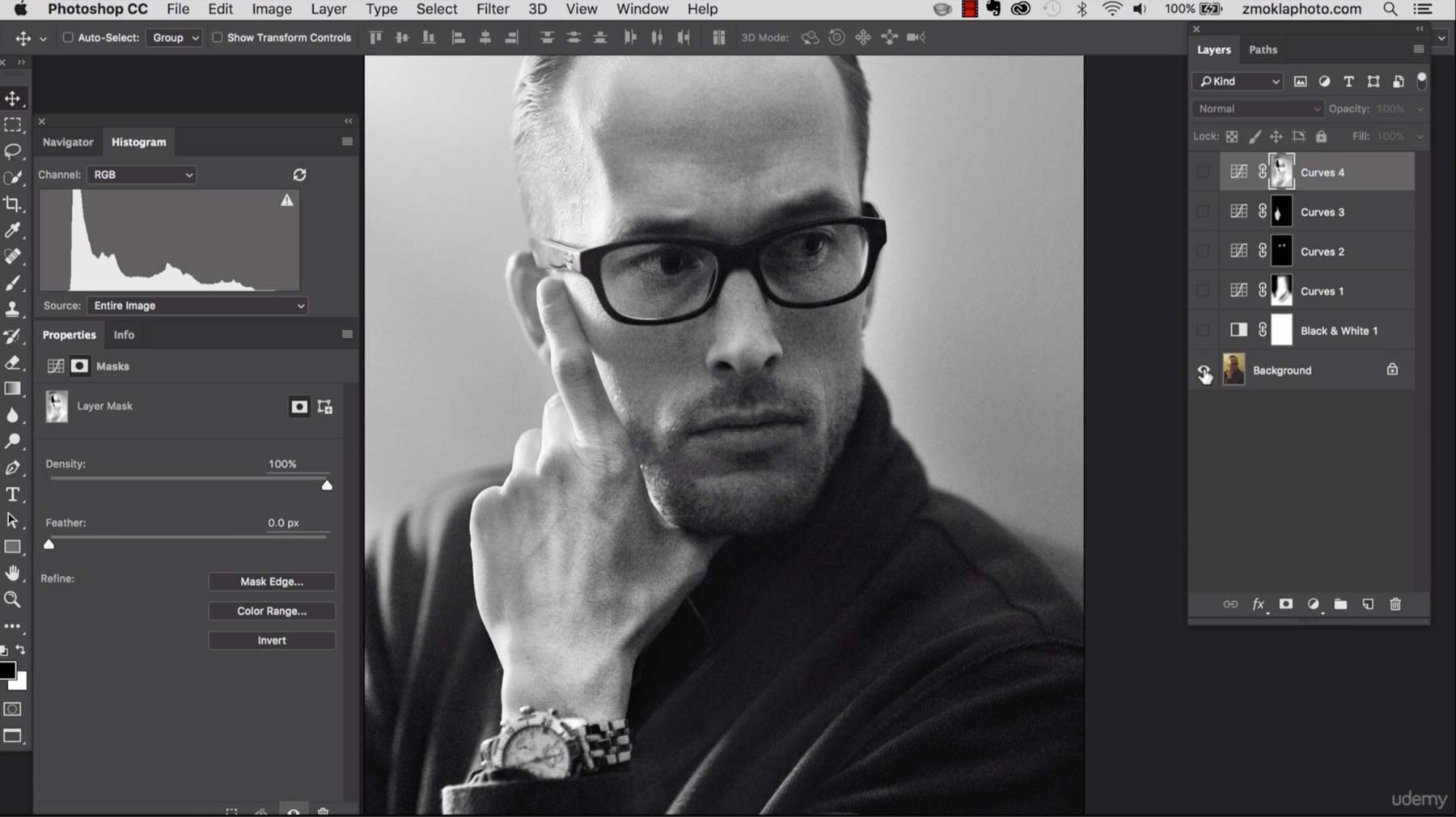 Master Black & White Artwork
Discover the most important components of powerful monochrome artwork: tonal separation between key elements in your image, strong contrast and wide tonal range including rich shadow and highlight detail.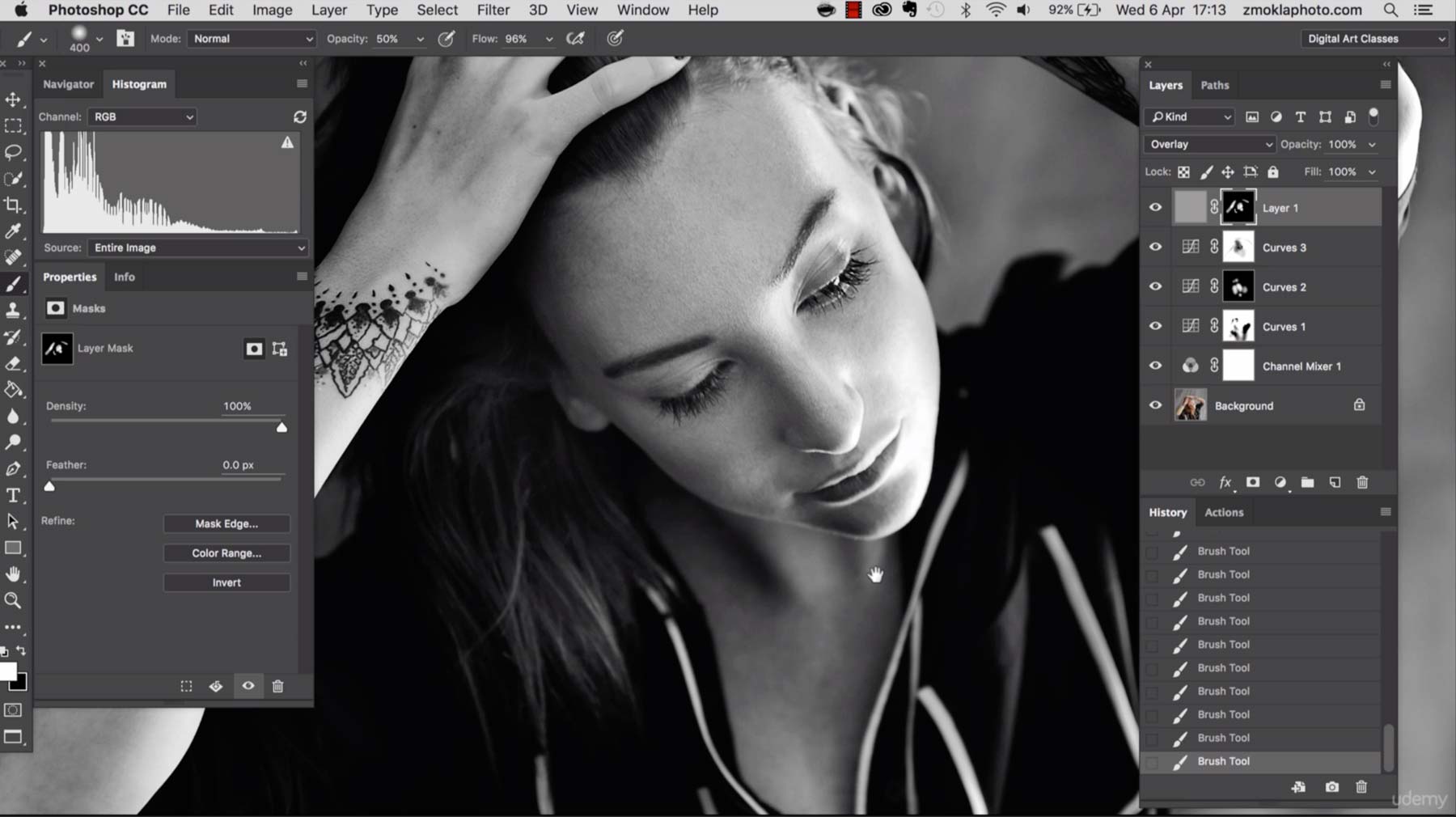 The Histogram & Levels Tools
Learn how to extend tonal range in your images with the Levels Tool. Reference the luminosity adjustments with the Histogram to avoid clipping shadows or highlights in your photos.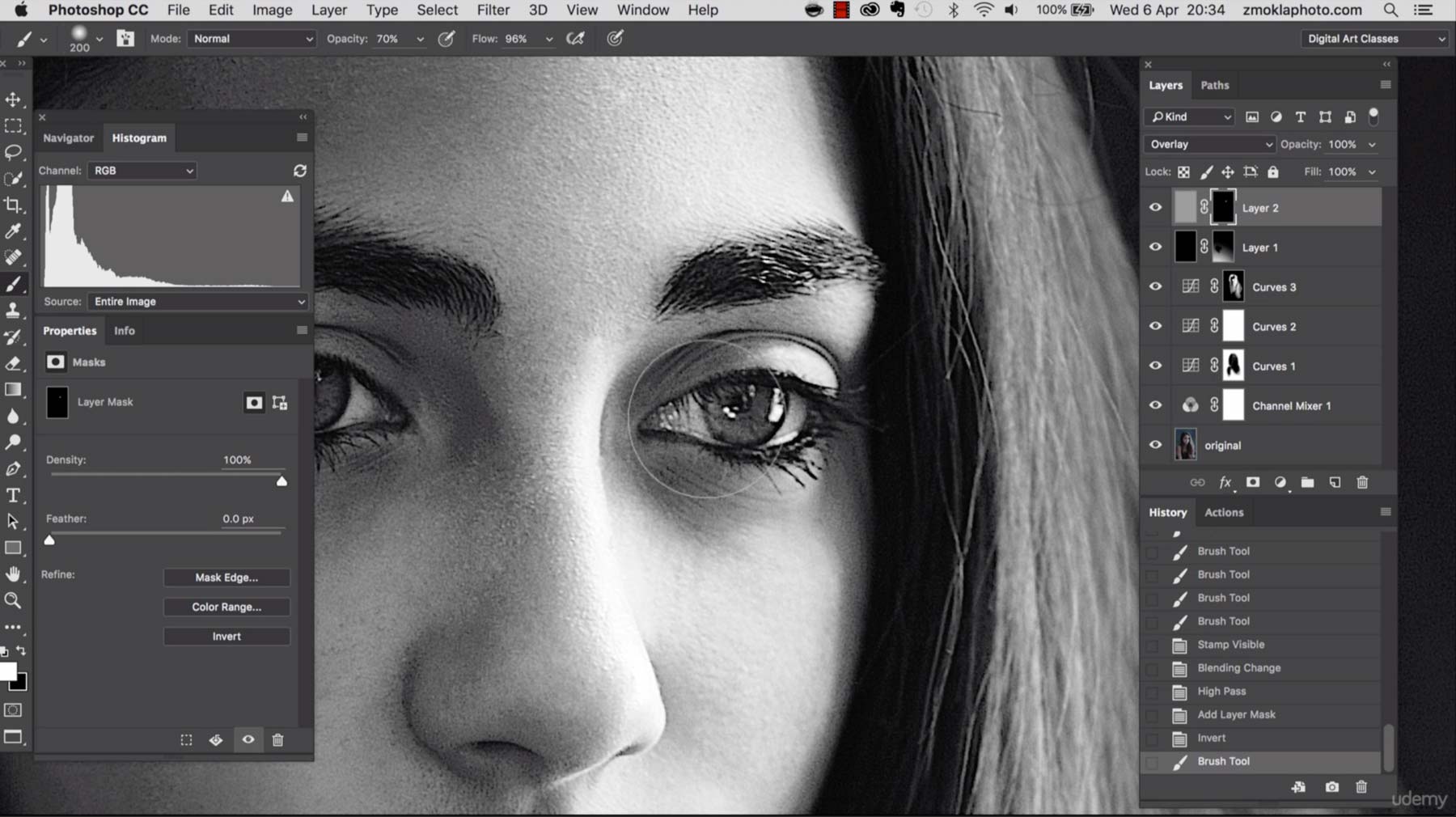 Non-Destructive Workflow
Learn how to combine masks and adjustment layers to achieve your creative vision and maintain great flexibility. In no time create alternative versions of one photo, or revisit your artwork in the future and bring new ideas to life with a few touches to your adjustments.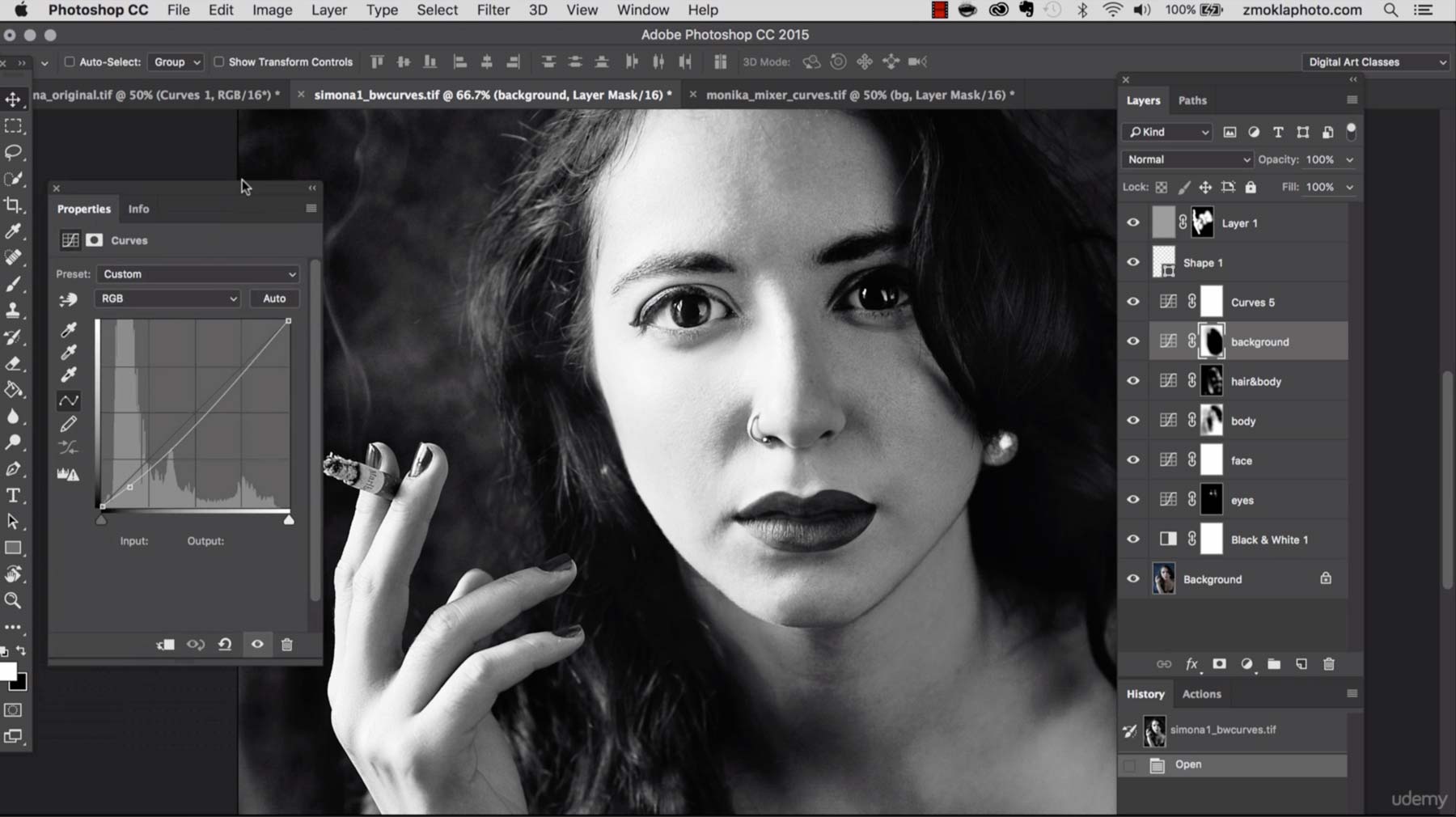 Seven Complete Fine Art Portrait Workflows
The course takes an active, hands-on approach. Follow the complete start-to-finish monochrome portrait edits and expand your creative skills.